AZTEC CLUB OF 1847
MILITARY SOCIETY OF THE MEXICAN WAR 1847-1997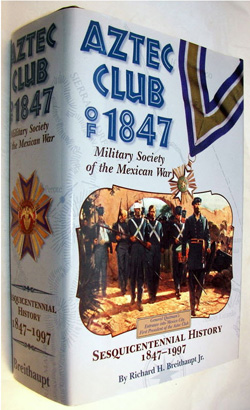 1,500 Pages! Includes Battle Maps 300 photographs
including over 50 contemporary drawings

Includes listing of 6,500+ American Officers
Serving in the Mexican War
The Aztec Club of 1847 was founded in Mexico City at the time the American Army occupied that capital during the Mexican War. Its original members represent most of the major figures of the Mexican War and a significant group of those whose fame would come fifteen years later as leaders of the Union and Confederate armies in the Civil War. Researched and written by Richard Breithaupt, Jr., President of the Aztec Club.
The Aztec Club of 1847 A Sesquicentennial History is in many respects their story — a story of young men bonded tightly by the experiences of war, as only its mutual hardships and shared dangers could instill. Add the forging experience of a return to the battlefield against one other and the subsequent reunification after the War's end, and you have a sense of how unique the Aztec Club really is. Their bond, stronger than if they had been biological brothers, gives more profound meaning to the time-worn description of the Civil War as a war of "brother against brother". Much more than the definitive history of a unique organization, this work is a significant reference on the Mexican War itself.
West Point's class of 1846 was the most impacted, producing ten Confederate generals and twelve Union generals. The youthful bonds that developed between them as cadets, and fellow West Point graduates, were cemented by the maturing experience of war, not once but twice. Many of the Aztec Club's original members later opposed each other in battle. Examples include George B. McClellan and Pierre G. T. Beauregard, both members of the Aztec Club serving together on General Winfield Scott's staff in Mexico, who led opposing armies during the Civil War. Ulysses S. Grant and Simon Bolivar Buckner battled at Fort Donelson. In 1847 Captain Robert E. Lee, also a member of the Club, commended a red-whiskered young Lieutenant, Ulysses S. Grant, on his initiative and daring in battle. When Grant and Lee met face to face at Appomattox Court House that eventful day in 1865, their conversation began with reminiscences of Mexico. After the Civil War, the bond even stronger than before, these warhorses came together to perpetuate the unique bond they shared. The Aztec Club grew and thrived as it evolved from a military society into the hereditary one that exists today. Click here to see a list of biographies.
This work is full of interesting, yet little known facts about these men. Imagine Sam Grant, with "Cump" Sherman and Joe Johnston at his side, and thirty other general officers of the former Union and Confederate armies, traveling together by railroad car seeking conviviality and renewing of bonds of friendship. This actually occurred in 1881 when, as members of the Aztec Club, the group journeyed on an outing together, one of several in which Grant participated while serving as President of the United States. In 1997, at the invitation of the Mexican government, their descendants returned to Mexico to commemorate 150 years of peace, to honor the memory of the sacrifices made by both countries and to foster greater friendship, understanding and commerce.
You'll find over 150 biographies and photographs of the Aztec Club's original members, a collection of essays and veterans' accounts of the war, battle maps, historical documents, writings and artwork of the Mexican War not available before in one volume. Included are the complete texts of the Treaty of Guadalupe Hidalgo and Protocol of Querétaro, ending the War; Treaty of Cahuenga; Winfield Scott's Correspondence on Vera Cruz; and Terms of Capitulation of Vera Cruz. It concludes with the most complete listing of officers serving in the Mexican War ever produced.
This 1,500-page hardbound book consists of over 361,000 words in 19 chapters, with nearly 300 photographs, including 52 examples of contemporary art depicting the Mexican War. Click here to see the Table of Contents.
Library of Congress Catalog No. 98-96483. ISBN-10: 1886085056 / ISBN-13: 978-1886085053 .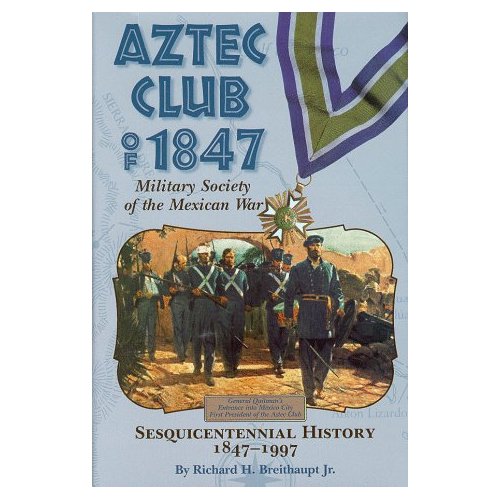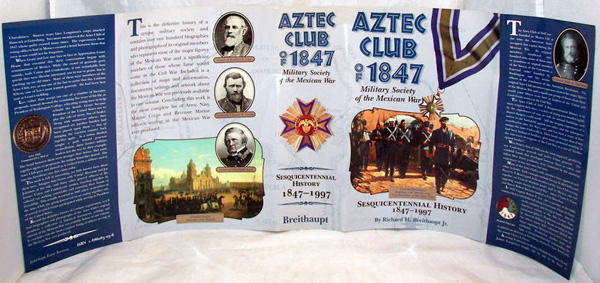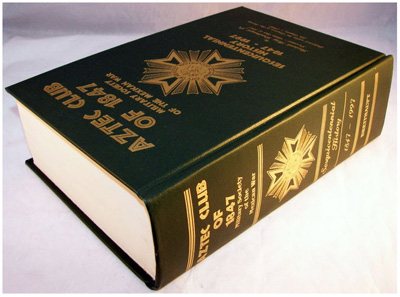 SOLD OUT. Try Amazon.com for a used copy.