CROSSING THE BAR
AT THE MOUTH OF THE TABASCO RIVER
June 14, 1847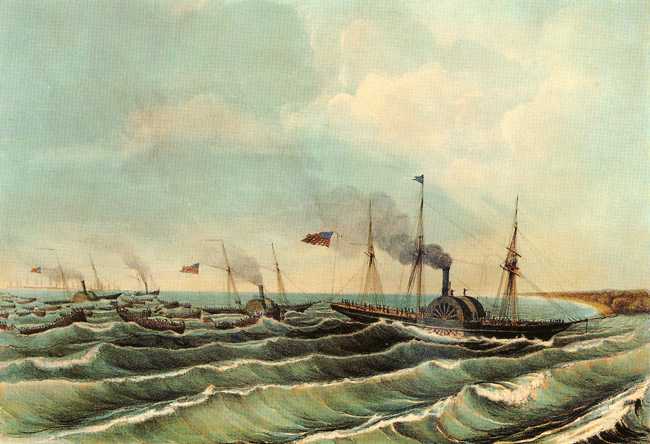 Henry Walke. Toned Lithograph. Sarony & Major, NY. 1847.
Commodore Matthew C. Perry conducted two expeditions against the Mexicans of Tabasco. American naval commanders wanted a spectacular victory that would bring their branch of the service to the attention of the American public. The artist, Lt. Henry Walke, USN, produced a series of eight drawings published in his Naval Portfolio, of which this is one. Both expeditions involved crossing the bar at the mouth of the Grijalva River below the port town of Frontera. In this, his second expedition, Perry had to content with the Mexican's improved defenses. He set out with 1,000 sailors and marines and 10 pieces of small artillery to land on the beach.
From right to left, we see the steamers Scorpion, Scourge, Spitfire and Vixen towing two bomb brigs and two schooners up to Frontera, then returned to pick up the ships' boats and surfboats, crammed with men, and towed them across the bar. The Scorpion (Commander Josiah Tatnall) is flying the blue pennant of Commodore Perry.