(07-25-1822 - 03-08-1903)
Born at New York City, NY, he was the grandson of Alexander Hamilton. He entered the Military Academy at age 15 and graduated in 1841, 24th in a class of 52. He received a brevet to 2nd Lieutenant, 1st Infantry, July 1, 1841. Hamilton served on Frontier Duty at Ft. Atkinson, IA, 1841- 1844 and Ft. Crawford, WI, 1844; was at the Military Academy as Assistant Instructor of Infantry Tactics, November 19, 1844-June 19, 1845; in garrison at Jefferson Barracks, MO, 1845; and on sick leave, 1845-1846 before entering the Mexican War.
Hamilton was engaged in the Battle of Monterey, September 21-23, 1846, for which he was breveted to 1st Lieutenant, September 23, 1846, for gallant and meritorious conduct in the several conflicts at Monterey. He was on sick leave, 1847 and thereafter engaged in the Skirmish at Mil Flores, August 13, 1847, where he was severely wounded. Hamilton was breveted to Captain, August 13, 1847, for gallant and meritorious conduct "in an Affair with the Enemy at Mil Flores, Mexico". Hamilton was wounded twice critically during the Mexican War, once by a ball in the abdomen and once by a lance which passed entirely through his chest, piercing a lung. These injuries plagued him for the remainder of his life.
Hamilton served as Quartermaster, 1st Infantry, April 19-May 7, 1847 and as Aide-de-Camp to Major-General Scott, April 30, 1847- September 1, 1854. He was promoted to 1st Lieutenant, 1st Infantry, March 15, 1848. He served as Secretary to the Board of Commissioners of the Military Asylum (Soldiers' Home), at Washington, D. C., 1852-1854. He resigned May 31, 1855.
He became the Administrator of the New Almaden Quicksilver Mine, California, in 1855 and was a farmer at Branford, CT, 1858-1861. At the outbreak of the Civil War he volunteered as a private, 7th NY Regiment, National Guards, on the March to the Relief of Washington, April, 1861 and was acting Aide-de-Camp to Brigadier-General Butler at Annapolis, MD, on the Staff of Lieutenant-General Scott, as Military Secretary, May 9-August 7, 1861. He was commissioned Lieutenant Colonel, Staff, May 9, 1861.
Hamilton was promoted to Colonel, Staff, Aide-de-Camp to the General-in-Chief, August 7, 1861 and served in that capacity until November 1, 1861 when he became Assistant Chief of Staff to Major- General Halleck, commanding the Department of Missouri, November 12, 1861-January 2, 1862. He was promoted to Brigadier-General, U. S. Volunteers, November 12, 1861.
From January 2-February 16, 1862 Hamilton was in command of the District of St. Louis, MO; in command of Division, in Operations against New Madrid, MO and Island No. 10, Mississippi River, resulting in the Evacuation of the former, March 13-14, 1862, and Capture of the latter, April 7, 1862, which was greatly facilitated by cutting a canal, suggested by him, to turn the enemy's position. In the Campaign of 1862, he was engaged both in Tennessee and Mississippi, being in the slow Advance upon and Siege of Corinth, MS, April 22-May 30, 1862, in command of the left wing under Halleck. He fell ill with malaria and was on sick leave of absence, September, 1862. He was promoted to Major- General, U. S. Volunteers, September 17, 1862, for meritorious services at New Madrid and Island No. 10.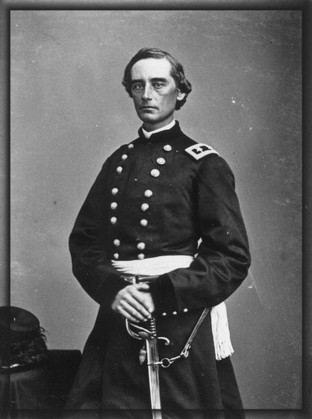 Schuyler Hamilton
Hamilton reported to duty with Major-General Rosecrans, at Nashville, TN, but fell ill before his nomination to Major-General could be confirmed by the Senate and, understanding the nomination of an officer unfit for service (due to illness) could not be submitted for confirmation, he resigned on February 27, 1863. The order accepting his resignation stated:
"The President, with much regret, accepts the resignation of Major-General Schuyler Hamilton because of the ill health and disability he incurred in the service of his country, wherein he was highly distinguished for ability and good conduct."
Hamilton returned to farming at Branford, CT, 1863-1866. In later years Hamilton felt that he had been dealt an injustice and sought to be placed on the retired list, without success. He was hydrographic engineer, Department of Docks, New York City, 1871-1873; and Superintendent of Yards, 1873-1875. He authored "Our National Flag, the Stars and Stripes, its History in a Century", an address before the New York Historical Society, delivered June 14, 1877, the Centennial Anniversary of the Adoption of the United States Flag.
Hamilton died at New York City on March 8, 1903 and was buried in Greenwood Cemetery, Brooklyn.