(08-27-1800 - 05-09-1889)
Born at Haysboro, Davidson County, TN, he attended the local academy and in 1818 was commissioned a 2nd Lieutenant, 19th Infantry. He was promoted to 1st Lieutenant, January 7, 1819 and Captain, May 14, 1825. Harney took part in the Black Hawk War and the Florida War, distinguishing against the Seminole and Creek Indians. He became Major and Paymaster, May 1, 1833 and Lieutenant Colonel, 2nd Dragoons, August 15, 1836.
As a Lieutenant Colonel, he distinguished himself at Fort Mellon and at Carloosahatchie on July 23, 1839, and was in command of several expeditions into the Everglades. He was breveted to Colonel in December, 1840 for gallant and meritorious conduct.
At the outbreak of the Mexican War, Harney was the senior cavalry officer under General Winfield Scott. He was mentioned for bravery at Medellin, March 25, 1847. However, Scott mistrusted Harney's judgment and relieved him of command. An ensuing imbroglio in the newspapers caused much fanfare. Scott was over-ruled by President Polk, a neighbor of the Harney family in Tennessee, and Harney quickly vindicated his reputation by his gallant conduct in the Battle of Cerro Gordo. He received a brevet to Brigadier-General to rank from April 19, 1847. He was promoted to Colonel, 2nd Dragoons, January 30, 1848.
After the Mexican War, Harney was on Frontier Duty and on September 3, 1855 defeated the Sioux Indians at Sand Hills, on the Platte River. He was promoted to Brigadier-General, to rank from June 14, 1858 and assigned command of the Department of Oregon. His reputation sank once again after he took military possession of San Juan Island, claimed by the British government as part of British Columbia. This led to a dispute with Great Britain and General Harney's recall.
Harney was assigned command of the Department of the West, with headquarters in St. Louis, MO and, at the outbreak of the Civil War, was one of four general officers of the Regular Army line. In April, 1861, en route to Washington to meet the incoming administration and receive orders, he was arrested by the Confederates at Harper's Ferry, VA and taken to Richmond. Generals Lee and Johnston strongly urged him to join the cause of the Old Dominion. Harney was released and he reported to Washington. Upon his return to St. Louis he warned the people of Missouri against secession.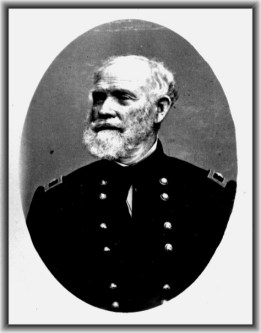 William Selby Harney
Harney had married into an old St. Louis family. His place of birth and other ties seemingly allied him with the Southern element. When he made an agreement with General Sterling Price not to molest the Missouri State Guard so long as it committed no overt act against Federal authority, General Nathaniel Lyon relieved Harney of command. He retired in 1863 and saw no further service. At the close of the war he was breveted to Major-General for long and faithful service.
After the War, Harney lived in retirement on his estate at Pass Christian, MS and home in St. Louis. He died at Orlando, FL on May 9, 1889 and was buried at Arlington National Cemetery.