(11-22-1805 - 12-07-1877)
Vice President: 1852 - 1867
Born at Charleston, South Carolina, he graduated from the U. S. Military Academy at West Point in 1825. Initially serving on topographical duty to 1828, upon a return from a leave of absence in Europe, 1828-1830, he was assigned recruiting duty followed by a transfer to the garrison at Ft. Trumbull, CT. He served on ordnance duty from 1831-1832 and was promoted to Captain on May 30, 1832 whereupon he was placed in command of Ft. Monroe Arsenal, VA, remaining there until 1839.
From April 16, 1839 to October 8, 1846 he was a member of the Ordnance Board. Huger was a member of the Military Commission on Professional Duty in Europe, 1840-1841, and in command of Ft. Monroe Arsenal, VA, 1841-1846. He was Chief of Ordnance of the Army, under command of Major-General Winfield Scott in the Mexican War, 1847-1848, having charge of the Siege Train in the Siege of Vera Cruz. He received a brevet to Major on March 29, 1847, for gallant and meritorious conduct at the Siege of Vera Cruz, March 8-29, 1847. He also participated in battles at Cerro Gordo, April 12, 1874; Molino del Rey, September 8, 1847; and operations leading to the capture of Mexico City. He was breveted to Lieutenant-Colonel on September 8, 1847, for gallant and meritorious conduct in the Battle of Cerro Gordo, and breveted to Colonel, September 13, 1847, for conduct in the Battle of Chapultepec.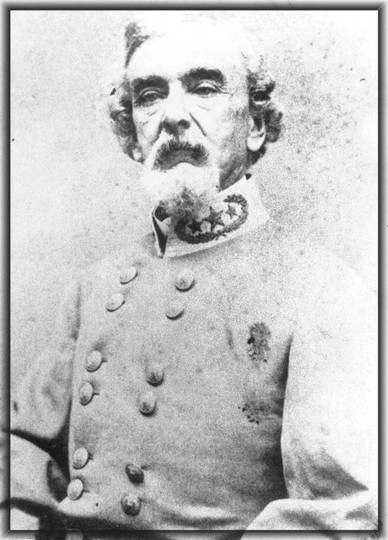 Benjamin Huger
Following the Mexican War Huger was returned to command of the Ft. Monroe Arsenal, VA until 1851, followed by command of the Harper's Ferry Armory, VA, 1851-1854; Pikesville Arsenal, MD, 1854-1860; and Charleston, Arsenal, SC, 1860 to 1861.
After the fall of Fort Sumter he resigned his commission to enter the service of the Confederacy and was appointed Brigadier-General on June 17, 1861. He was made Major-General on October 7, 1861. Placed in command of the department embracing Norfolk in May, 1861, Gen. Huger soon came to believe he was too weak to withstand attack. Accordingly, he dismantled his fortifications, set fire to the Navy Yard, blew up the CSS Virginia and evacuated the city in May, 1862.
Although he later was placed in command of a division at Seven Pines, Gaines' Mill, Glendale and Malvern Hill, Huger was harshly censured for what seemed his slow preparedness at Seven Pines, leading to an investigation in the Confederate Congress. Joseph E. Johnston claimed that Huger was not ready on time, and had his command "gone into action even at 4 o'clock the victory would have been much more complete". Relieved of field command on July 12, 1862, he was assigned as Inspector of Artillery and Ordnance. He continued in this responsibility, mostly in the Trans-Mississippi Department, until the end of the Civil War. After the war he lived on a farm in Fauquier County, VA and returned to Charleston shortly before his death. He is buried in Green Mount Cemetery, Baltimore.