(01-19-1807 - 10-12-1870)
Born at "Stratford", Westmoreland County, VA, he was the fifth child of Henry "Light Horse Harry" Lee and his second wife, Ann Hill Carter. Harry Lee lost his fortune to land speculation and his beloved "Stratford" passed to a son by his first marriage. The family was compelled to move into a small house in Alexandria, where they survived on a trust established for Mrs. Lee by her father. When Robert was 11, Harry Lee died while en route home from a trip to the West Indies. Young Robert received an appointment to West Point in 1825 and graduated second in the Class of 1829 without receiving a single demerit. Classmates who graduated with Lee who would serve in the Confederacy included Joseph E. Johnston and Theophilus H. Holmes.
Lee was breveted to 2nd Lieutenant, Corps of Engineers, July 1, 1829 and commissioned 2nd Lieutenant, Corps of Engineers the same day. He married Mary Ann Randolph Custis, the only child of George Washington Parke Custis, a grandson of Martha Washington by her first marriage. "Arlington", the Custis estate on the Virginia shore of the Potomac opposite Washington, became Lee's home after the death of his father-in-law in 1857.
The 17 years between his graduation and Mexican War were spent at variety of posts. He served as Assistant Engineer in the construction of Forts Monroe and Calhoun, for the Defense of Hampton Roads, VA, 1829-1834; as Assistant to the Chief Engineer, at Washington, D. C., 1834-1837; as Assistant Astronomer for establishing the Boundary between the States of Ohio and Michigan, 1835. He was promoted to 1st Lieutenant, Corps of Engineers, September 21, 1836.
He was Superintending Engineer of the improvements of St. Louis Harbor. MO, and of the Missouri and Upper Mississippi Rivers, 1837- 1841, having general charge of the improvement of the Lower Mississippi, and of the Ohio River below Louisville, KY, 1840-1841. He was promoted to Captain, Corps of Engineers, July 7, 1838.
Lee had responsibility for the construction and repairs of the defenses at the Narrows entrance to New York Harbor, 1841-1846; was a Member of the Board of Visitors to the Military Academy, 1844; as Assistant to the Chief Engineer, at Washington, D, C., 1844; as Member of the Board of Engineers for Atlantic Coast Defenses, September 8, 1845-March 13, 1848.
Lee's participation in the Mexican War began with the march toward Chihuahua, as Chief Engineer of the column commanded by Brigadier- General Wool, 1846. He was engaged in the Siege of Vera Cruz, March 9-29, 1847; on Reconnaissance, April 15-17 and engaged in the Battle of Cerro Gordo, April 17-18, 1847 for which he won a brevet to Major, April 18, 1847, for gallant and meritorious conduct.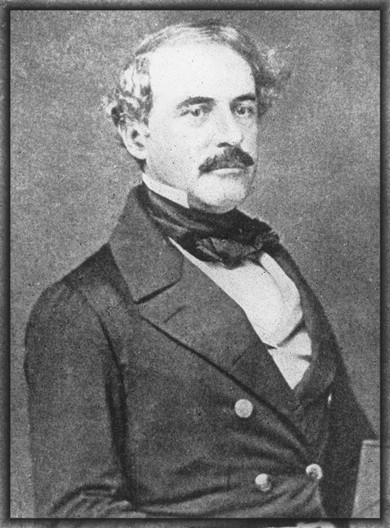 Robert E. Lee
Taken in 1850, much as he appeared
during the Mexican War when he had no beard
Lee was on Reconnaissance through the Pedregal, August 18-19, 1847; engaged in the Battle of Contreras, August 19-20, 1847; on Reconnaissance of Coyoacan, August 20, 1847; in the Battle of Churubusco, August 20, 1847. Lee was breveted to Lieutenant Colonel, August 20, 1847, for gallant and meritorious conduct at the Battles of Contreras and Churubusco.
Lee was next engaged in the Battle of Molino del Rey, September 8, 1847; on Reconnaissance of the approaches to the City of Mexico, September 9-13, 1847; at the Storming of Chapultepec, September 13, 1847, where he was wounded; and engaged in the Assault and Capture of Mexico City, September 13-14, 1847. He was breveted to Colonel, September 13, 1847, for gallant and meritorious conduct in the Battle of Chapultepec. Sometime later Winfield Scott called Lee: "the very best soldier that I ever saw in the field".
Following Special Duty in the Engineer Bureau at Washington, D. C., 1848, Lee was Superintending Engineer of the construction of Fort Carroll, Patapsco River, MD, 1848-1852; as Member of the Board of Engineers for Atlantic Coast Defenses, July 21, 1848-April 11, 1853; and as Superintendent of the U. S. Military Academy, September 1, 1852-March 31, 1855. With the approval of then Secretary of War Jefferson Davis, Lee transferred from staff to line and was commissioned as Lieutenant Colonel, 2nd Cavalry, March 3, 1855.
Lee was in command of Jefferson Barracks, MO, 1855; on Frontier Duty at Camp Cooper, TX, 1856; on the Expedition against the Comanche Indians, 1856; at Camp Cooper, TX, 1856-1857; commanding regiment at San Antonio, TX, 1857; on sick leave, 1857-1859. He was at home at Arlington House at the time of John Brown's Raid on Harpers Ferry and was placed in command of a detachment of Marines that stormed the engine-house, capturing Brown and his men, October 17-25, 1859.
He was in command of the Department of Texas, February 6-December 12, 1860; and on leave of absence, 1860-1861. In February, 1861, when the lower South seceded, General Scott recalled Lee from Texas. He was promoted to Colonel, 1st Cavalry, March 16, 1861. When it became apparent that he would be expected to aid in "suppressing insurrection", Lee promptly resigned, on April 25, 1861. He had already refused, on April 18, the offer of the chief command of the U. S. forces made by General Scott at the urging of President Lincoln.
Proceeding immediately to Richmond, Lee was designated commander-in-chief of Virginia by Governor Letcher. Upon the transfer of the Virginia troops to Confederate service, on May 14, 1861 he was appointed and confirmed Brigadier-General in the Confederate Army, then its highest rank, and General to rank from June 14, 1861. He ably discharged the duties of arming and equipping the Virginia contingents and then those of other states. Lee was first assigned to resist the Federal columns advancing through the trans-Allegheny counties of the state but his effort was unsuccessful because the populace adhered to the Union cause.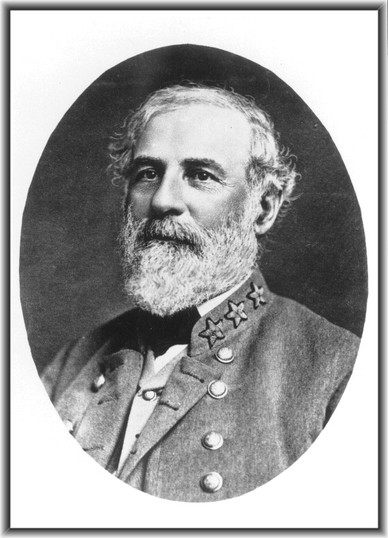 Robert E. Lee
After a tour examining the defenses of the South Atlantic seaboard, Lee returned to Richmond in March, 1862 to the thankless task of being military adviser to President Jefferson Davis. At this time Lee devised a plan magnificently executed by Stonewall Jackson to prevent reinforcements from reaching McClellan at Richmond. This was but one example of how Lee quietly engineered significant results despite the president's obsession with managing even the smallest details of matters that caught his fancy.
The wounding of General Joseph E. Johnston at the Battle of Seven Pines, May 31, 1862, catapulted Lee into command of the Army of Northern Virginia. Lee took the initiative at once and foiled McClellan's threat against Richmond in the Seven Days battles, June 26-July 2, 1861. By late August, he had moved north to the plains of Manassas where he collaborated with Stonewall Jackson. At Second Manassas he defeated General John Pope decisively but was checked the following month by McClellan in the Northern thrust of the Maryland Campaign. During Second Manassas, Lee engaged in the same sort of personal reconnaissance to the front of friendly lines that had made him famous in the Mexican War and came back with the mark from a Northern sharpshooter's bullet on his face evidencing a very close call.
In September, 1862, when Lee and his army crossed the Potomac into Maryland, he climaxed an astonishing metamorphosis that stood the war on its ear. At the end of June the Union Army was at the outskirts of Richmond, capital of the Confederacy, and sixty days hence Lee was threatening Washington. Lee repulsed General Burnside at Fredericksburg on December 13, 1862, and General Joseph Hooker at Chancellorsville on May 2-4, 1863.
However, since the South had to contend with the Union's large superiority in men and materiel, it quickly became apparent that even these successes could not be exploited to achieve positive results. After the Pennsylvania Campaign of 1863, Lee was forced to turn more and more to defensive measures, always hoping that some miraculous recognition of the Confederacy by European powers might take place.
Utilizing to the fullest extent the newly-developed art of field fortification, Lee fought what was in essence a rear-guard action from the Wilderness (May-June, 1864) to Petersburg (July, 1864-April, 1865), always on alert for an opportunity to strike a blow. On January 23, 1865 he was confirmed as General-in-Chief of the Armies of the Confederate States.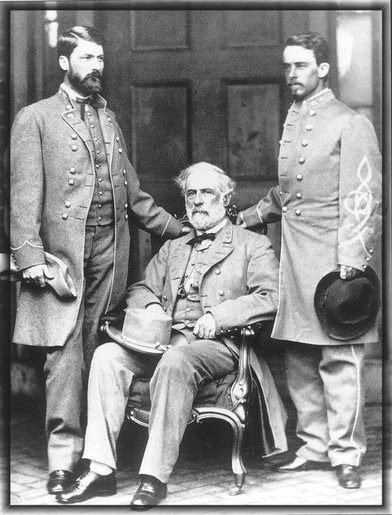 Robert E. Lee with his son,
Brig. Gen. George Washington Custis Lee (left)
and Lt. Col. Walter H. Taylor
Taken by Matthew Brady in the basement of Lee's home in 1865
After the surrender at Appomattox Lee returned to Richmond as a paroled prisoner of war. He devoted the remainder of his life to setting an example of conduct for other ex-Confederates. He refused various offers which would have made him secure financially, instead accepting the post as President of Washington College (now Washington & Lee University). He died at Lexington on October 12, 1870 and is buried there.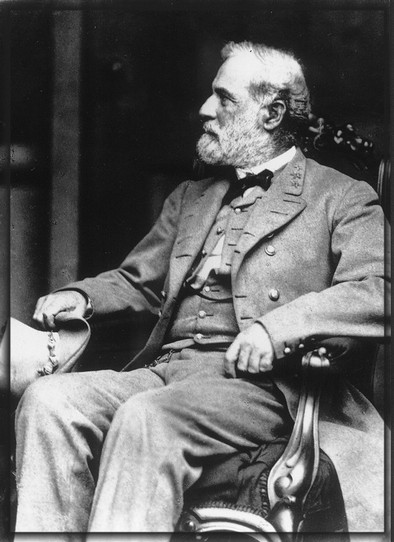 Robert E. Lee
His only seated portrait in uniform
Matthew Brady, April, 1865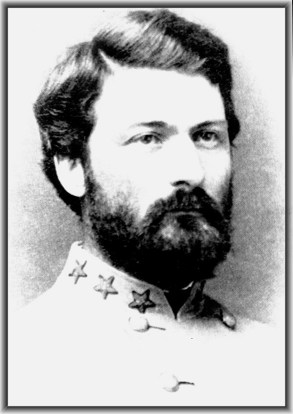 George Washington Custis Lee
One of Aztec Club's first hereditary members, admitted in 1881