(10-09-1819 - 08-09-1897)
Born in the Crosshill section of Laurens District, South Carolina, he was the son of Irish immigrants. His father, who became a prosperous farmer, fulfilled his ambition to send his sons to college. Samuel attended the school of Thomas Lewis Lesly and graduated from South Carolina College in 1841. He then went to Abbeville where he studied law under T. C. Perrin and was admitted to the bar in 1842. He soon was Perrin's partner and became recognized as a popular politician and advocate.
McGowan served for thirteen years as a member of the South Carolina House of Representatives. His civil career was interrupted by the Mexican War. In 1846 he entered the Palmetto Regiment as a private, rose to the rank of Captain, Staff, and for a time served as a volunteer aide-de-camp to Brigadier-General John A. Quitman whose division stormed the Belen Gate. McGowan was complimented for gallantry in action near Mexico City.
McGowan was elected a Major-General of the South Carolina Militia and in 1861 commanded a brigade that captured Fort Sumter in April of that year. He then volunteered for service, acting as aide-de-camp to Brigadier-General Milledge Bonham at First Manassas.
In 1862 he was commissioned as Colonel, 14th South Carolina Infantry, attached to Maxcy Gregg's brigade. As part of A. P. Hill's Light Division, Gregg's brigade fought valiantly in the Seven Days' Campaign of June 25-July 1. At Gaines' Mill, on June 27, McGowan was wounded but remained with his regiment. Hill cited McGowan and the 14th for its performances at Gaines' Mill and Frayser's Farm.
At Second Manassas, August 29-30, Gregg's brigade held the left of Stonewall Jackson's line. McGowan led his regiment in a counterattack that stabilized Gregg's line. He was severely wounded and missed the Sharpsburg Campaign.
After the death at Fredericksburg of General Gregg, McGowan was promoted over two senior colonels to Brigadier-General, to rank from January 17, 1863, and took command of the brigade until the surrender at Appomattox. He was wounded in the lower leg at Chancellorsville and again at Spotsylvania during the bloody combat at Mule Shoe.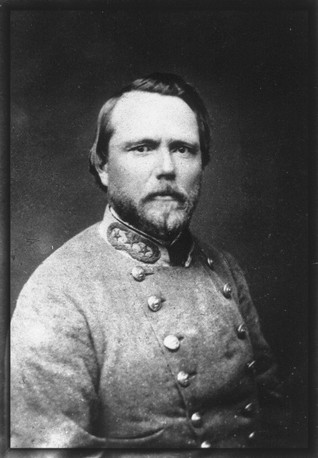 Samuel McGowan
In many of the bloodiest battles in Virginia he displayed extraordinary bravery. Warner writes:
"McGowan's career and reputation were not excelled by those of any other brigade commander in the Army of Northern Virginia. When not disabled by one or another of the four wounds which he sustained during the war, he participated with great gallantry in every engagement of the army from the Seven Days to Appomattox, where he was paroled."
At the close of the War, McGowan returned to Abbeville and was a member of the state convention of 1865 and elected to Congress that year, only to be denied a seat by the Republican majority. He was a leader against the carpetbaggers and was again elected to the State Legislature in 1878, and in 1879 was elected an Associate Justice of the South Carolina Supreme Court, a post he held until 1893 when he was defeated for re-election by the efforts of "Pitchfork Ben" Tillman, Democratic boss of the state whom he had antagonized by casting the deciding vote in a Supreme Court decision declaring the proposed liquor dispensary unconstitutional.
McGowan died at his home in Abbeville and is buried in upper Long Cane cemetery.