(01-12-1792 - 08-07-1881)
President: 1867 - 1881
Born at Cappagh, County Tyrone, Ireland, his family emigrated to Delaware County, PA after his father fled following his involvement in the Irish rebellion of 1798. Patterson was educated in public schools and subsequently became a clerk in a Philadelphia counting house. He was commissioned as a First Lieutenant, Infantry, during the War of 1812. Promotions in the PA militia to Lieutenant-Colonel and Colonel were received by April 2, 1813.
Patterson was commissioned a First Lieutenant, 22nd Infantry, April 5, 1813 and was transferred to the 32nd Infantry on May 27, 1813. He was promoted to Captain, Assistant Quartermaster-General, June 24, 1813 and served to June 5, 1814. Captain, 32nd Infantry, April 19, 1814 to June, 1815. For a time he served on Gen. Joseph Bloomfield's staff.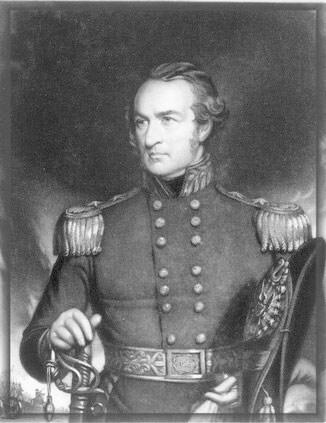 Robert Patterson
Following the War, Patterson returned to commercial pursuits, engaged in manufacturing and establishing several mills. He became active in politics and was one of the five Col. Pattersons in the Pennsylvania convention that nominated Andrew Jackson for the presidency, and in 1836 was president of the electoral college that cast the vote of Pennsylvania for Martin Van Buren. In 1838, and again in 1844, he was active in quelling local riots.
Patterson was commissioned a Major-General of Volunteers at the outbreak of the Mexican War, commanded his division at Cerro Gordo, April 12, 1847, led the cavalry and advanced brigades in the pursuit, and entered and took Jalapa. After the War he resumed his business pursuits and took command of the Pennsylvania militia.
At the beginning of the Civil War he was the oldest Major-General by commission in the United States. On the President's first call for 75,000 men for three months' duty, April 15, 1861, Patterson was mustered into service as a Major-General of Volunteers, and assigned to a military department composed of Pennsylvania, Delaware, Maryland and the District of Columbia. He crossed the Potomac at Williamsport on June 15. When Gen. McDowell advanced into Virginia, Patterson was assigned the responsibility of watching Gen. Joseph E. Johnston's troops at Winchester, VA. He later claimed the failure of Gen. Scott to send him orders, for which he had been directed to wait, caused his failure to cooperated with McDowell in the movements that resulted in the Battle of Bull Run. He was mustered out of service upon the expiration of his commission, July 27, 1861.
One of the largest mill-owners in the United States, Gen. Patterson was interested in sugar refineries and cotton plantations. He was a popular speaker and President of the Board of Trustees of Lafayette College at the time of his accidental death in Philadelphia in 1881.
General Patterson's tenure as President of the Aztec Club, 1867-1881, spanned the critical period after the Civil War when the Club accomplished what few of its contemporaries did the successful metamorphosis from a military society to a hereditary one.
The accomplishments of his administration were many:
1. Establishment of an annual meeting schedule, a mechanism for timely publication of notice, and annual election of officers.
2. Production of a list of original members.
3. Creation of a membership medal, and the distribution of it to all living members and the families of deceased members.
4. Long-term fiscal management.
5. Successor membership.
6. Adoption of a new Constitution and By-Laws.
7. Creation of an Executive Committee empowered to conduct business between meetings.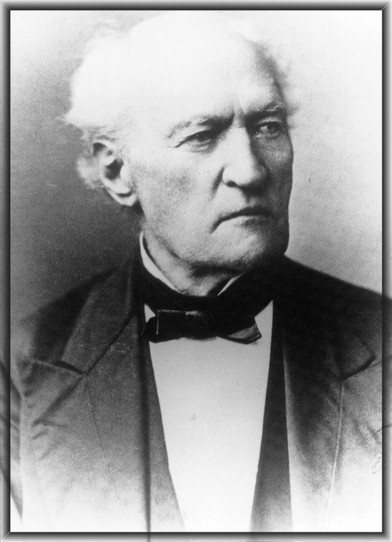 Robert Patterson
The subtle changes in membership criteria: from admission of individuals who served in the War in any theater (1871); to successor membership (1875); and, shortly after his death, the admission of sons of officers disabled or killed in the Mexican War (1881) created a new fabric from which the hereditary society was formed. As if by some grand scheme, Robert Patterson set motion a metamorphosis that was not complete until several years after his death.
His vision, leadership, and the respect he commanded of nearly everyone embodied a unique blend of qualities the Club needed at this critical time. Rather than rest upon the laurels of the past, he aggressively sought out and embraced as many officers who were Mexican War veterans as he could find, no doubt realizing that enlisting them in the cause as members would foster the interest of future generations. It was not by accident that his intent was to pass the torch to the next generation.
Included in the Minutes of 1881 Annual Meeting of the Aztec Club is the following memorial to Robert Patterson:
MEMORIAL RECORD
"Major General Robert Patterson, the venerable, distinguished and highly honored President of The Aztec Club, died on the 7th day of August 1881. He was born in County Tyrone, Ireland on the 12th of January 1792, and was therefore at the time of his decease in the 90th year of his age. As a soldier and a general he was distinguished in the War of 1812, in the Mexican War of 1846, and in the late Civil War. As a citizen and a merchant he gained and kept the esteem and respect of his fellow citizens, who recognized in him a man of generous heart, prompt action and high public spirit. As a man he won the affectionate regard of a very large circle of friends. Thus eminently respectable in many situations and activities, his virtues and achievements have already been made public and have become material for history. But to us he stands in a peculiar relation which is the special subject of this record.

We mourn his life and cherish his memory, as the President of this our military society, a post which he had filled from the close of the Mexican War until the date of his death. In all these years he has loved and fostered the Club; he has held it together by the attraction of his personal influence; he has hospitably entertained it in annual reunions at his house. He stood to it in the attitude of a father, and he was very proud of his military family, who warmly returned his affection; they were proud of their President.

He has gone, followed to the grave by his mourning family and by many friends and associations. Among them The Aztec Club had by its representatives the high honor of taking rank after those of his own blood. We mourn his loss, but we remember how often he referred to the supreme hour with the simple words 'that it must come soon, but his knapsack was packed and he was ready.'"
Resolved that the heartfelt sympathy of The Aztec Club be extended, with this memorial record, to his son, General Robert E. Patterson, and through him to every member of the bereaved family.