(09-30-1824 - 01-24-1887)
Born at Greenfield, MA, he graduated 7th in his class from West Point with a brevet to 2nd Lieutenant, Ordnance, July 1, 1845. He served initially at the Military Academy as Assistant Professor of Geography, History and Ethics, August 28, 1845-January 13, 1846; as Assistant Ordnance Officer, at Watervliet Arsenal, NY, 1846; and at Ft. Monroe Arsenal, VA, 1846, as assistant to Captain Benjamin Huger, whom he soon followed to Vera Cruz.
He was promoted to 2nd Lieutenant, Ordnance, March 3, 1847 and engaged in the Mexican War at the Siege of Vera Cruz, March 9-29, 1847; Skirmish at Amazoque, May 14, 1847; Battle of Contreras, August 19-20, 1847 and Battle of Molino del Rey, September 8, 1847. He was breveted to 1st Lieutenant, September 8, 1847, for gallant and meritorious conduct in the Battle of Molino del Rey. While in Mexico he made the ascent on Popocatepetl and planted, at the risk of his own life, the American flag on the summit of the volcano.
Stone was next engaged in the Battle of Chapultepec, September 13, 1847, for which he was breveted to Captain, September 13, 1847, for gallant and meritorious conduct. He was also engaged in the Assault and Capture of the City of Mexico, September 13-14, 1847.
Following the War, he served as Assistant Ordnance Officer at Watervliet Arsenal, NY, 1848; on leave of absence in Europe and the East, 1848- 1850 to study the movements and appliances of great armies; as Assistant Ordnance Officer at Watervliet Arsenal, NY, 1850; in command of Ft. Monroe Arsenal, VA, 1850-1851; and in charge of the construction of Benicia Arsenal, CA, 1851-1856, being Chief of Ordnance for the Pacific Division, 1851-1855. He was promoted to 1st Lieutenant, Ordnance, February 26, 1853 but resigned 3 years later, on November 17, 1856, finding the pay inadequate.
After leaving the Army, Stone was a banker in San Francisco from 1856 to1857 when the bank failed due to the absconding of its treasurer. He served as Chief of the Scientific Commission in the Service of the Mexican Government, for the Survey and Exploration of the Public Lands in the State of Sonora, Mexico, 1857-1860, and of Lower California, 1858-1860. He served as Acting Consul, Guaymas, Mexico, 1858-1859.
At the outbreak of the Civil War neared, Stone was commissioned as Colonel, Staff, Inspector-General of D. C. Volunteers, January 1, 1861, responsible for Organizing and Disciplining District of Columbia Volunteers serving the Defense of Washington, D. C, January 1-April; 16, 1861; in command of District of Columbia Volunteers, April 16-July 23, 1861, being engaged in guarding Baltimore and Ohio Railroad, and outposts of Washington, D. C., April, 1861. He was made Colonel, 14th Infantry, May 14, 1861 and Brigadier-General, U. S. Volunteers, May 17, 1861, standing 8th in seniority of all those appointed.
Stone was engaged in the capture of Alexandria, VA, May 24, 1861; on the Rockville Expedition, June 10, 1861; Skirmishes at Conrad's and Edwards' Ferry, MD, June, 1861; Skirmish at Harper's Ferry, July 7, 1861; and in Major-General Robert Patterson's Operations in the Shenandoah Valley, commanding Brigade, July 8-23, 1861. He was in command of a division of three brigades, a "Special Corps of Observation", on the Upper Potomac, August 10, 1861-February 9, 1862. Through the rashness of a subordinate, Colonel (and Senator) Edward D, Baker, who was killed in the action, Stone was unjustly made responsible for Union's blunders at the Battle of Ball's Bluff.
The Radicals in Congress, who already believed Stone "unsound" on the issue of slavery, demanded his removal. At midnight, February 8, 1862, Stone was arrested and subsequently confined for 189 days at Ft. Lafayette and Ft. Hamilton, NY, without charges ever being preferred against him. The responsibility for his arrest and imprisonment rested on Secretary Edwin Stanton, Major-General George B. McClellan and the Committee on the Conduct of the War.
Reviewed at length in Twenty Years in Congress, Blaine stated:
". . In the end, not gracefully but tardily, and as it seemed grudgingly, the Government was compelled to confess its own wrong and to do partial justice to the injured man by restoring him to honorable service under the flag of the Nation. No reparation was made to him for the protracted defamation of his character, no order was published acknowledging that he was found guiltless, no communication was ever made to him by national authority giving even a hint of the ground on which for half a year he was pilloried before the nation as a malefactor. The wound which General Stone received was deep. From some motive, the source of which will probably remain a mystery, his persecution continued in may petty and offensive ways, until he was finally driven, toward the close of the war, when he saw that he could be no longer useful to his country, to tender his resignation.

It is not conceivable that the flagrant wrong suffered by General Stone was ever designed by any one of the imminent persons who share the responsibility for its infliction. They were influenced by and largely partook of the popular mania which demanded a victim to atone for a catastrophe. . . .Mr. Stanton had faults. He was subject to unaccountable and violent prejudice, and under its sway he was capable of harsh injustice. Many officers of merit and of spotless fame fell under his displeasure and were deeply wronged by him. General Stone was perhaps the most conspicuous example of the extremity of outrage to which the Secretary's temper could carry him. Even when intellectually convinced of an error, he was reluctant to acknowledge it."
Indeed, after Stone's release on August 16, 1862, Stanton refused to allow his assignment until mid-1863, despite frequent requests by high officers in the field for Stone's services. He was left waiting orders at Washington, D. C., August 16, 1862-May, 1863; and only then assigned duty, in the remotest theatre of operation. He was in the Department of the Gulf, May, 1863-April 16, 1864, being engaged in the Siege of Port Hudson, May 27-June 8, 1863, and was one of the Commissioners for receiving its surrender.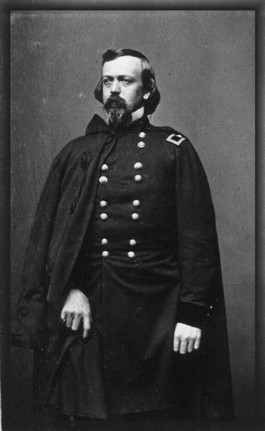 Charles Pomeroy Stone
Stone next served as Chief of Staff to Major-General N. P. Banks, July 25, 1863-April 16, 1864, being engaged in Skirmishes on Bayou Teche, October, 1863; Battle of Sabine Cross Roads, April 8,1864; and Battle of Pleasant Hill, April 9, 1864, where he distinguished himself. Despite this, Secretary of War Stanton caused Stone to be mustered out of volunteer service (as Brigadier-General) and, as Colonel of the U. S. Army, was sent to Cairo, IL unemployed again, waiting orders April 18- August 13, 1864. He was given command of Brigade of V Corps (Army of the Potomac), before Petersburg, August 21-September 13, 1864 but, broken in heart and health, and with the knowledge that he would continue to be victimized by Stanton, Stone resigned on September 13, 1864.
Stone was employed as Engineer and Superintendent of the Dover Mining Company, Goochland County, VA, 1865-1869. He was commissioned Brigadier-General (Chief of Staff) in the Egyptian Army, March 30, 1870; and Ferik-Pasha (grade next to Field Marshal), September 20, 1873-January 15, 1883. He served as Inspector- General, ex officio, of the Egyptian Military Schools (many of which he organized or reorganized), 1870-1883. He served as General Aide-de- Camp to Khedive, Ismael First, 1871-1883.
For "his valuable services in command, organization, and administration," he was decorated Commander of the Order of Osmanieh, October 10, 1870 and Grand Officer of the Order of the Medjidieh, January 24, 1875. He served as a member of numerous boards and commissions in Egypt, served as Vice President of Commission to organize the Egyptian section for the International Exhibition in Vienna, 1873, at Philadelphia, 1876, and Paris, 1878. He was decorated "Commander of the Order of the Crown of Italy", on September 21, 1881 for assistance rendered to Italian explorers to Central Africa, and for his services to geographical science.
Stone served as Chief Engineer of the Florida Ship Canal and Transit Company, and directed a preliminary survey across the northern part of the peninsula, 1883-1884. He was Engineer-in-Chief to the Committee for the construction of the pedestal for the Statue of Liberty, on Bedloe's island, New York Harbor, 1886-1887. He died on January 24, 1887 at New York City and was buried at West Point.
Stone's classmate, General Fitz John Porter, Aztec Club President, 1892-1893, wrote:
". . .He was pure and irreproachable in conduct; indomitable in adversity; modest when success crowned his efforts; undepressed and energetic in adversity; so courteous to his associates and dignified in bearing as always to command respect, and to furnish a model for imitation.

. . .[H]e was disgraced by an unmerited punishment. Facts then existing, but now explained, with others since brought to light, have proved that he was no traitor, and that though disgraced he could not be dishonored. . . .His surviving associates know his history, appreciate the wrong done him, and sympathize with those he has left behind."