(11-24-1784 - 07-09-1850)
Born at Montebello, Orange County, Virginia, he was the only son of Richard Taylor, Lieutenant-Colonel 2nd Regiment, Virginia Line, an original member of the Society of the Cincinnati. He was later a member of the Virginia Assembly and appointed by President Washington as collector of the port of Louisville, KY.
Zachary Taylor received his only formal education from a tutor, Elisha Ayres of Connecticut, who declared that his pupil displayed qualities of stability, firmness and studiousness. During his teens he assisted his father on the plantation where the family lived, on the Muddy Fork of Beargrass Creek in Jefferson County, KY.
Although he saw brief military service in 1806, it was not until two years later that Taylor embarked on a forty-year career with a commission as 1st Lieutenant, 7th Infantry,1808. He reported to General James Wilkinson at New Orleans but an outbreak of yellow fever forced him temporarily from the service. He was promoted to Captain, 1810. The following year his company was placed under the command of General William Henry Harrison, governor of the Indiana Territory, who assigned him command of Fort Knox. His company of fifty men were shortly thereafter transferred to Fort Harrison which he successfully defended against 400 Indians on September 4, 1812, for which he was breveted to Major.
The following year, Taylor recruited, mustered and inspected troops in the Indiana and Illinois Territories, and assisted in the defense of the frontier from Indiana to Missouri. In August, 1814, he set out to destroy Indian villages at the mouth of Rock River and, after failing to do so, returned to Des Moines where he built Fort Johnson. From December, 1814 until his unit was disbanded on June 15, 1815, Taylor commanded Fort Knox. In 1816 President Madison gave him a commission as Major, and ordered him to join the 3rd Infantry at Green Bay, Wisconsin. On April 29, 1819 he was promoted to Lieutenant- Colonel, 4th Infantry, and ordered to report at New Orleans.
In 1822 he built what later became Fort Jesup on the Louisiana frontier and that same year was made Commander of Cantonment Robertson neat Baton Rouge. In 1824 he served as a recruiting officer at Louisville and later on a board in Washington headed by General Winfield Scott. In 1827 he returned to Baton Rouge and the following year was appointed Commander of Fort Snelling, Northwest Territory (now Minnesota). In 1829 he was transferred to Fort Crawford.
Taylor was promoted to Colonel on April 5, 1832 and given command of the 1st Regiment at Fort Crawford, Prairie du Chien, Michigan Territory (Wisconsin). In the Black Hawk War he commanded 400 regulars under General Henry Atkinson and received custody of the captured Black Hawk whom he sent to Jefferson Barracks in the charge of Jefferson Davis, who later became his son-in-law. In 1836 Taylor assumed command of Jefferson Barracks, Missouri.
His regiment was ordered to Fort Jesup in 1837 but en route Taylor received orders directing him to assume command of the forces in Florida, where the second Seminole War was erupting. In December, 1837 he set out with a force of 1,100 men and followed the Indians into the Everglades. During the War, his muscular, stocky physique and iron constitution earned him the sobriquet of "Old Rough and Ready". He defeated the Seminoles in a desperate battle near Lake Okeechobee on December 25. Having secured for the United States much valuable property, Taylor was breveted to Brigadier-General and in May, 1838 assumed command of the Department from General Thomas S. Jesup. Taylor resigned his command in 1840 and toured the Eastern United States.
In 1841 Taylor was ordered to Fort Gibson to relieve General Arbuckle in command of the Second Department of the Western Division of the Army at Fort Smith. In 1842 be bought Cypress Grove plantation in Jefferson County, LA. Although he received little cooperation from Indian agents, the southwest frontier was for the most part quiet over the next two years. In May, 1844 he was ordered to Fort Jesup and, in anticipation of the annexation of Texas, was directed a few months later to have his command ready to take the field on the slightest notice. Following orders received from President Polk, Taylor arrived at Corpus Christi on July 31, 1845 where he built a force of 4,000 men. In January, 1846, Taylor was ordered to advance to the Rio Grande and two months later established a base at Point Isabel and entrenchments opposite Metamoras. He defeated a Mexican force under General Arista three times the size of Taylor's own force at Palo Alto on May 8, 1846 and was again successful at Resaca de la Palma the next day, May 9, using artillery, dragoons and infantry. War was declared on May 13, 1846 and Taylor occupied Metamoras on May 18. Polk breveted Taylor to Major-General as soon as word of the victories had been received.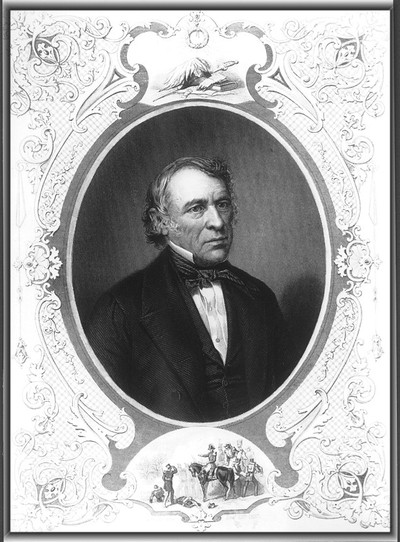 Zachary Taylor
By the middle of June, thousands of volunteers were arriving at Port Isabel but without adequate supplies or transportation into the interior, many of them had to be disbanded without seeing service. A month later, Taylor established a base at Camargo at the mouth of the San Juan River. With Saltillo as his objective, he departed in September, 1846 with 6,000 men divided equally between regulars and volunteers. On September 21 he attacked Monterey. After three days of skirmishing in which bayonet assaults predominated, the larger Mexican army surrendered and an eight week armistice arranged. Taylor was severely criticized by the administration for the liberal terms of surrender he accepted and five days before the end of the armistice he was ordered to terminate it. But for his popularity Taylor undoubtedly would have been replaced as field commander.
Meanwhile, it was ascertained that Vera Cruz could be approached in the rear by a landing force. Polk and his advisers labored for nearly two weeks on the best tactic to employ and determined that since a farther advance in the north would be hazardous and would accomplish nothing toward peace, that Monterey and its vicinity should be the limit of serious operations in that quarter. Instructions to General Taylor were carefully drafted, studied and agreed upon. To make sure that he would understand their significance, Major McLane, son of the Minister to England and a West Point graduate, was dispatched to deliver the order. Taylor interpreted the letter and envoy's explanation according to his own ideas.
Polk was under pressure to deliver a decisive victory quickly. The unfavorable Congressional election results of November, 1846 caused Polk to realize that while it might be dangerous politically to call for additional men and funds, it was even more dangerous not to do so. Benton delivered a written plan, Scott presented a similar one, and Taylor wrote that in order to strike a decisive blow troops had to land at Vera Cruz. Conner reported that a descent could be made under cover of the fleet, batteries could be planted on sand hills behind the city and San Juan d'Ulloa if not Vera Cruz itself could be taken. Polk decided to call out an additional 6,750 men and to capture Vera Cruz immediately.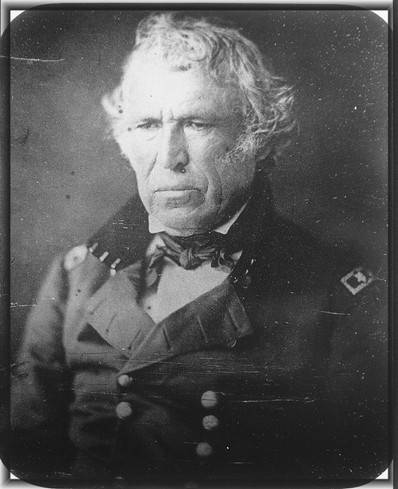 Zachary Taylor
The next problem Polk faced was the selection of a commander. In October, Robert Patterson, a good Democrat, had been selected but it had been found that, inasmuch as he was not a native born American, he could not be developed into a Presidential candidate, that his experience had not been adequate, that this appointment would involve retiring both Taylor and Scott, and that, as Buchanan had learned at this time from Slidell, that he did not possess the confidence of the army. Butler, another Democrat, was Polk's next choice but he was advised that Butler's appointment would cause dissension among officers then senior to Butler.
Taylor had to be considered then, but he was regarded by Polk and his advisers as professionally unequal to the task and personally unsuited for it. Both of these opinions, historian Justin Smith writes, were fully warranted.
While events had proved him a born leader of men and a splendid fighter, they had also demonstrated plainly his lack of generalship and executive efficiency. He distrusted, loathed and misconstrued the administration, failed to supply it with plans and information, endeavored to throw upon it the responsibility for mistakes of his own, lectured it harshly for misdeeds it had not committed, and frustrated the cardinal intent of its policy and orders by failing to press the campaign with all possible vigor during the summer and autumn. "I have not the slightest respect," he wrote, for any member of the Cabinet except the secretary of the navy. "Evil men bear sway," was another of his remarks.
The publication on January 22, 1847 by the New York Morning Express of Taylor's letter of November 5 to General Edmund Gaines defending the Monterey armistice and attacking the administration for lack of support only increased tension between he and Polk.
Taylor's private correspondence contained the harshest opinions of nearly all of those prominent in the Mexican War. Of Commodore Perry he entertained "a contemptible opinion". Shields, is described as "without one particle of principle to restrain him, save the laws of his country and ready to minister body and soul to the vilest passions of a vile administration". Quitman, deserving of high respect, appeared to him as unreliable, of mediocre ability and "afflicted with unbounded vanity". The Quartermaster-General was partially deranged. Of Scott, he had written in August: "He means well on all occasions," but now he was able to view his superior officer as a military "humbug" and low politician, eager to advance himself and ruin others by the most nefarious arts; and he could no longer see, what the administration fully recognized, that it was essentially for its advantage to have the generals win victories. Scott seems to have favored Taylor however, for he privately exerted a strong influence in his favor on several occasions.
Taylor did not believe in the Vera Cruz expedition. The season of yellow fever, in his opinion worse than 100,000 Mexican bayonets, was now far too near, he wrote, and an army besieging that port would be swept away by the pestilence. So, there was but one man left and he, as an officer of experience and the head of the army, possessed exceptional claims to the appointment. Though put off at the prospect at first, Polk recognized the value of playing one Whig leader against the other and, after demanding "Scott's confidence", appointed him to command the expedition to Vera Cruz on November 18.
General Scott was also selected to lead the expedition against Mexico City and empowered to draw upon Taylor's army for a part of his troops. When Taylor received a communication to that effect he was disgruntled and evaded a meeting with Scott. Although Taylor was advised to concentrate his remaining force at Monterey and act entirely on the defensive, he disobeyed orders by attempting to defend a line 400 miles long and thus, according to Polk, inviting attack. Advancing southward, he received word that Santa Anna was marching on his 5,000-man force with 20,000 troops. At Buena Vista, February 22-23, out-numbered 4-to-1, the American army defeated the Mexicans and effectively ended the war in the north. The battle was fought mostly by the volunteers but it was the smaller regular artillery to whom Taylor ascribed in large measure his success. Taylor commanded all forces in northern Mexico from March to November. He left Monterey November 8, 1847 and arrived at New Orleans on November 30. Hailed as a national hero, he retired to Baton Rouge on December 5.
By this time Taylor was all but an announced candidate for the Presidency. Popular sentiment was that he had been victimized by an administration that was jealous of his growing popularity. His victories early in the war convinced Whig politicians of his availability as a candidate in 1848. Popular meetings, some of them spontaneous and other inspired by leaders, assembled in the summer of 1846 to applaud his victories.
Taylor himself wrote numerous letters to soldiers, public men, and editors, much to the discomfort of the political establishment. Whether he realized it or not, there was political wisdom in his correspondence. He had written, in perhaps fifty letters, that he was not a candidate for the Presidency and doubted his qualifications for the office, but if the people called upon him he would serve. On December 10 Taylor wrote his son-in-law stating that he would not refuse to serve if elected President. This meant, of course, that he was a candidate. His formal announcement came the following month. Taylor received a crucial endorsement from Kentucky's John J. Crittenden (father of fellow Aztec Club member Thomas L. Crittenden), lifelong friend of Henry Clay and with it the party leaders' blessing. He was nominated by the Whig party in Philadelphia on June 7, 1848 on the fourth ballot, over Clay, Scott and Webster.
Taylor was elected 12th President of the United States in a three-way race against Lewis Cass, the Democrat, and Martin Van Buren, the former President. His Vice President was Millard Fillmore, the most popular Whig in New York, a successful lawyer and former Anti-mason. Cass was a prominent Western politician, Governor of the Territory of Michigan from 1814-1832, Secretary of War, Minister to France and U. S. Senator. Taylor was elected with 1,360,099 votes to 1,220,544 for Cass. Van Buren, the candidate of the anti-slavery Free Soilers, was able to take enough votes away from Cass to elect the Whig ticket. Taylor received 160 of the 290 electoral votes.
Taylor resumed the spoils system and, though once a slave-owner, worked to have California and New Mexico admitted to the Union as free states. Hoping to prevent sectional agitation of the question, he dispatched an emissary, Thomas Butler King, to counsel the Californians to form a state constitution and apply for statehood, and inhabitants of New Mexico were similarly encouraged. In special messages to the House and Senate in January, 1850, he urged unconditional admission of California and suggested statehood for New Mexico so that the boundary dispute with Texas could be settled by the Supreme Court.
Meanwhile, Southern representatives led by Alexander H. Stephens, organized a filibuster to prevent a vote on the admission of California and to insist that all proposals affecting the Mexican cession be combined into a single measure. In April, delegates from a Southern caucus called upon the President to warn him of the loss of Southern Whig support if he persisted on his plan to admit California and New Mexico as states and continued his hostile attitude toward Texas. Stephens and Robert Toombs called on him in July, as they had earlier, and threatened secession. Taylor was obstinate and, when Secretary of War George W. Crawford refused to revoke an earlier order recognizing the Rio Grande to its source as the Texan boundary, Taylor signed the order himself to prevent a rupture of his cabinet. Before the separate measures known as the Compromise of 1850 were passed, however, Taylor had died.
On July 4th he attended a ceremony connected with the building of the Washington Monument. He felt the heat, drank a large volume of cold water, and afterwards ate cherries and drank iced milk. That night he suffered an acute attack of gastro-enteritis and fever, from which he died on July 9th after a coronary thrombosis. He had decided, however, a few days before his death, to reorganize his cabinet. The "Galpin Claim" brought the matter to an issue as three members were implicated in what appeared to be a scandal. Crawford had a pecuniary interest in the claim and, upon Attorney General Reverdy Johnson's opinion, William Meredith, Secretary of the Treasury, paid it without investigating its merits. According to Thurlow Weed, in his autobiography he states that Taylor sought his advice, all members were to be superceded with diplomatic posts for those not involved.
Taylor was the last President to own slaves. He married the former Margaret Mackall Smith on June 18, 1810. Of their six children, two died in childhood; the three daughters who survived, Ann Mackall, Sarah Knox and Mary Elizabeth, married soldiers: Robert C. Wood, Jefferson Davis and William Bliss. His only son, Richard Taylor, became a Lieutenant-General in the Confederacy.