(01-12-1819 - 03-20-1900)
President: 1885 - 1887
Born at Cohasset, MA, he graduated from the U. S. Military Academy at West Point in 1841 at the head of his class. Among his classmates were Don Carlos Buell, Horatio S. Wright, Thomas J. Rodman and Nathaniel Lyon, all of whom won distinction during the Civil War. Twenty-one of the thirty-seven members of this class surviving in 1861 became General officers in either the Union or Confederate armies. Tower was commissioned a 2nd Lieutenant, Engineering Corps, on July 1, 1841, was on duty for a year as assistant to the Board of Engineers, and in 1842 became Assistant Professor of Engineering at West Point.
From 1843 to 1846 he was employed in the construction of the fortifications at Hampton Roads. He was promoted to 1st Lieutenant in April, 1847 and during the Mexican War rendered brilliant and effective service at Cerro Gordo, Contreras, Chapultepec, and the operations ending in the surrender of Mexico City. He won brevets of 1st Lieutenant, Captain and Major for gallantry while serving on the staff of General Winfield Scott. Between 1848 and 1861 he was engaged in engineering work, mainly on the Pacific Coast. He was promoted to Captain on July 1, 1855, and Major of Engineers on August 6, 1861.
During the Civil War, his first wartime service was skillfully and successfully conducted in the defense of Fort Pickens, FL, on November 23, 1861. He was promoted to Brigadier-General of Volunteers on June 12, 1862. He served with honor under Gen. N. P. Banks and Gen. John Pope in northern Virginia, and at the second battle of Bull Run on August 30, 1862 where he received a severe wound that incapacitated him from further field service.
From July to September, 1864 he served as Superintendent of the Military Academy at West Point after which he returned to the field with the Army of the West. As Chief Engineer, he supervised the construction of the defenses in front of Nashville and participated in the Battle on November 15-16, 1864. He continued to serve in the West and South until the close of the war.
In 1865 he was made Lieutenant-Colonel of Engineers, and was repeatedly breveted "for gallant and meritorious services", reaching the rank of brevet Major-General, U. S. Army, on March 13, 1865. Following the War he was connected with a number of significant engineering enterprises and frequent contributor to engineering periodicals. He was buried in Central Cemetery at Cohasset, MA.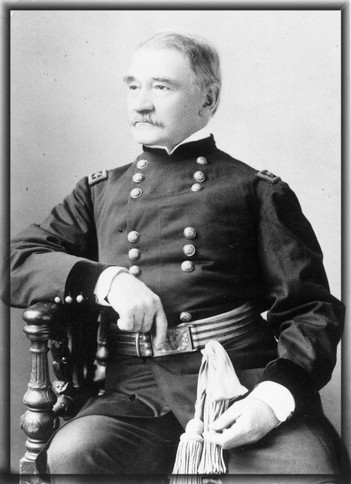 Zealous Bates Tower