(03-01-1794 - 05-07-1849)
Born at Hudson, Columbia County, NY, he received only a common school education and in early life worked in a Hudson store. He later moved to Albany where he continued as a merchant until the age of 18. With the War of 1812 commencing, he applied for a commission in the Army and on March 19, 1813 received an appointment as 1st Lieutenant, 23rd Infantry. He served as an aide to General Winfield Scott. He was breveted to Captain, August 19, 1814, for gallantry and distinguished conduct at the Battle of Chippewa.
In the Battle of Niagara he distinguished himself, receiving the thanks of his general and a brevet to Major, July 25, 1814. He was transferred to the 2nd Infantry, May 17, 1815.
Worth was Commandant of Cadets at West Point from 1820-1828. He was promoted to Major, Ordnance, May 30, 1832 and Colonel, 8th Infantry, July 7, 1838.
He was heavily engaged In the Florida War, notably at Palaklaklaha, April 19, 1842, in which the Seminole Indians were disastrously defeated. He was breveted to Brigadier-General, March 1, 1842, for gallant and highly distinguished service in the war against the Florida Indians.
Worth was second in command to General Zachary Taylor at the outbreak of the Mexican War. Under Taylor he conducted the negotiations for the capitulation of Matamoras, and by him was intrusted with the assault on the Bishop's Palace at Monterey. He was breveted to Major-General, September 23, 1846, for gallant and meritorious conduct at the Battle of Monterey, and given swords by Congress, the states of New York and Louisiana, and his native county, Columbia.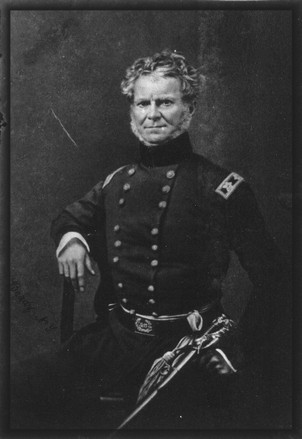 William Jenkins Worth
He was subsequently ordered to the Gulf to join General Scott and was engaged in the Siege of Vera Cruz, March 9-29, 1847; Battle of Cerro Gordo, April 17-18, 1847; Skirmish of Amazoque, May 14, 1847; Battle of Contreras, August 19-20, 1847; and Battle of Churubusco, August 20, 1847. He was engaged in the Storming of Chapultepec, September 13, 1847 and the Assault and Capture of the City of Mexico, September 13-14, 1847. Worth was the first to enter Mexico City where, by his own hand, he cut down the Mexican flag that waved from the National Palace.
After the Mexican War he was placed in command of the Department of Texas, where he died of cholera. He was a tall and commanding figure, and said to be the best horseman and handsomest man in the Army. A monument was erected to his memory by the city of New York at the corner of Broadway and 5th Avenue.