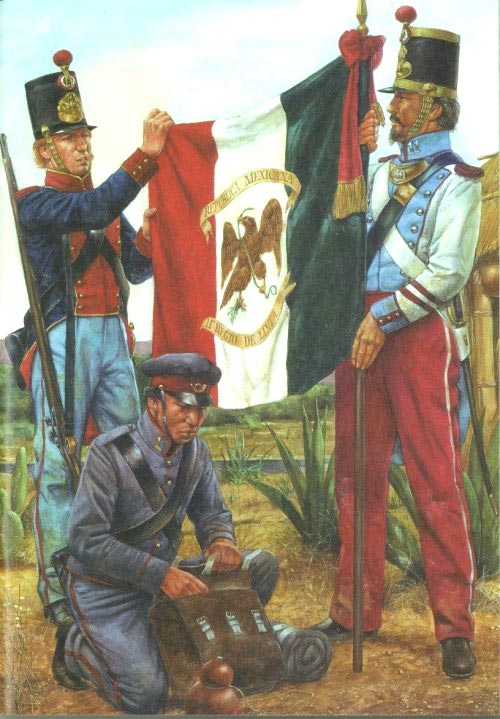 Mexican Infantry Prior to the
Battle of Churubusco, 1847
Mexican-American War 1846-1848. Brassey's History of Uniforms. Ron Field. Osprey, a division of Reed Ineternational Books, London, England. 1997. Painting by Richard Hook.
Mexican forces under Major General Manuel Rincon put up a truly inspired defense of the Franciscan Convent of San Mateo at Churubusco on 20 August 1847. A combined garrison of Regular and National Guard units beat off numerous American assaults before finally surrendering to a white flag offered by Captain James M. Smith, 3d U. S. Infantry. This plate depicts the Mexican infantry prior to this battle. The color bearer of the 11th Line Infantry wears the uniform adopted by his unit between 1841-1842. As Mexican color bearers were given officer's rank designation, he wears a yellow metal gorget around his neck bearing an eagle and serpent. Two diagonal stripes on his lower sleeves denote the rank of second sergeant.
Mexican regimental and battalion colors generally consisted of the national flag emblazoned with the eagle and serpent, plus unit designation. Sometimes these flags had red silk streamers with yellow tasselled ends attached. The private of the San Patricio Battalion (left) wears the uniform prescribed for the Mexican National Guard in 1842. His unit was composed largely of Catholic deserters from the U. S. Army, a great many of them Irish, hence the ruddy complexion and auburn-colored hair. He is armed with a British Tower-type Brown Bess smoothbore flintlock musket, thousands of which were condemned as unserviceable by the British government and sold to Mexico during the 1830s and 1840s. Of eighty-seven members of the San Patricio Battalion captured at Churubusco, at least thirty were tried by U. S. court-martial, found guilty of desertion, and hanged on a hill top overlooking Chapultepec at the moment the Stars and Stripes replaced the Eagle and Serpent flag above the Castle.
The kneeling member of the 4th Light Infantry wears the field dress of his regiment. Embroidered on the collar of his jacket are the letters L (Ligero) and P (Permanente). Note his hide knapsack with buckskin straps, and gourd water container.