The Campo de Cahuenga State Historic Park is located at 3919 Lankershim Boulevard, North Hollywood, California USA, across the street from Universal Studios. The significance of this beautiful little park, an oasis of palm trees replete with a replica adobe building, seems all but forgotten. What is this place? Carl Laemmle, who in 1915 founded Universal Studios, said he was proud to be across the street from such an important historical site as Campo de Cahuenga.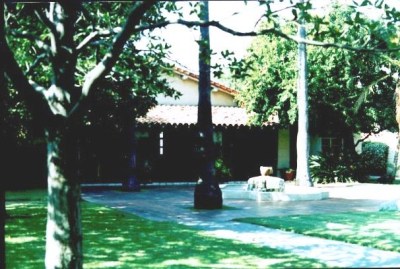 Campo de Cahuenga
Operated by the Los Angeles City Department of Recreation and Parks, Campo de Cahuenga is the site where in 1847 the Capitulation of Cahuenga was signed, effectively ending Mexican rule of California. The Campo de Cahuenga Historical Memorials Association, affiliated with the park for 75 years, maintains a museum and stages community activities at the site.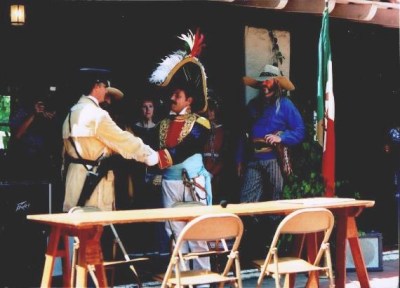 Re-enactment of the Signing
General Andreas Pico and Lt. Colonel John C. Fremont met at this site, on the porch of the Felix Adobe at the Cahuenga Rancho, where the present memorial park is located, on January 13, 1847, to sign the Treaty of Cahuenga which was later confirmed by the Treaty of Guadalupe Hidalgo at the end of the Mexican War in 1848.
The Cahuenga Rancho site was forgotten during the period of the 1849 gold rush and statehood in 1850. It's hard to understand but its adobe was allowed to disintegrate and the property was deserted until 1910. It was at that time that Mrs. Armitage S. C. Forbes headed efforts for its preservation and recognition. The City of Los Angeles purchased and opened the site on February 2, 1924.
During the years of the Great Depression it was allowed to fall into neglect once more. However, on November 2, 1950 the Campo de Cahuenga Historical Memorials Association and the City Parks Commission erected a new adobe on the historic site. Under the leadership of William Allen the Association developed a museum and hung pictures on the walls.
Today, Campo de Cahuenga is regarded by historians as the most historic site west of the Mississippi River. In January of each year, the anniversary of the signing of the Treaty of Cahuenga is celebrated in a grand festival at the site.