The territory of California was under Spanish rule until 1821 when, after two years of political in-fighting, a Spanish military officer in Mexico City declared himself emperor of an independent Mexico. Most Californians reacted negatively to this news as Spain had treated Californians benignly but were skeptical of Mexican control. Some Californians were even thinking about independence for California, or at least some form of local rule.
The Franciscan missionaries were openly hostile to the new, anti-cleric Mexican government because it intended to secularize the missions that dotted the landscape of the territory. This policy involved taking the mission lands from the church and giving them to the local inhabitants, Indians and Californios, and army veterans. Although this had been Spain's plan from the beginning of its New World colonialization, the government and the church had abandoned this plan when it became apparent that the Indians had no desire to Europeanize themselves and that the mission system was self-perpetuating.
Mexican rule over California proved chaotic. Political upheavals were routine in Mexico City and a dozen Mexican governors ruled California over the next 26 years. Some of these appointed governors were democratically minded and able servants, while others were tyrranical and incompetent. Some were Californian but most were Mexican.
Several rebellions were organized against the worst governors. Twice there was political unrest that resulted in military skirmishes in the Cahuenga Pass north of Los Angeles.
In 1831, Manual Victoria, the cruelest and most arbitrary of the Mexican governors, banished from California several opponents who demanded democratic reforms. Jose Carrillo and an American, Abel Stearns, were the most active, and they were exiled to Baja California. From there, they led a small army against Victoria who marched his army south from the capital at Monterey. As the two sides clashed in the Cahuenga Pass, Gov. Victoria's face was severely slashed. Victoria resigned and the previous governor, Jose Maria de Echeandia, who remained in San Diego after he had been relieved of duty by Victoria, assumed control from his home. Further clouding the political climate, Captain Agustin Juan Vicente Zamorano almost immediately established a rival government in Monterey. The Cahuenga Pass became a sort of border between the two regimes.
Following the separation of Texas from Mexico in 1835, Mexico sought to discourage any independence movement in California. However, as American mountainmen blazed new trails over the Rocky Mountains, and more ships visited the coast, more and more settlers established homesteads. Like Texas, Mexico was losing its grip on California.
Newly installed Governor Manuel Micheltorena had enraged many Californians by bringing with him about 400 brigands who reportedly were present to bolster law and order. Making Gov. Micheltorena even more unpopular was his favoring the return of the missions and their lands to the church and evicting whoever happened to be there.
A cabal of Californians, led by Juan Bautista Alvarado and Jose Castro, brought 284 men over the Cahuenga Pass where they met Micheltorena's force. On February 19 and 20, 1845, the Mexicans and Californians exchanged long-range artillery fire on the banks of the Los Angeles River while concerned citizens watched the cannonballs fly from nearby hillsides. After a truce was called and both sides met in Los Angeles, Gov. Micheltorena resigned. His successor, the last of the Mexican governors, was California-born Pio Pico, an anti-cleric. Shortly thereafter, Gov. Pico leased the San Fernando Mission, effectively the entire San Fernando Valley, to his brother, Andreas Pico, and Juan Manso.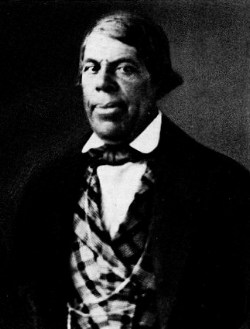 Gov. Pio Pico
By 1845 many Californians had had enough political instability and had begun to look toward the United States. The boundary dispute between the United States and Mexico at Texas became a flashpoint. President James K. Polk embraced the theory that it was "Manifest Destiny" for the United States to stretch from the Atlantic to the Pacific. Many Californians hoped it was only a matter of time before they, too, were governed by the United States.
Upon Texas becoming a state in 1845, Mexico dropped diplomatic relations with the United States. In early 1846, the Mexican government authorized Governor Pio Pico to take whatever steps he deemed necessary to protect Alta California from a foreign takeover. One of Pio Pico's largest assets was the former San Fernando Mission. On June 17, 1846, he sold 120,000 acres, not including the mission itself, to Los Angeles resident Eugenio de Celis.
The timing for de Celis could not have been better. Three weeks later U. S. forces captured the provincial capital at Monterey, an event viewed in Washington as the end of Mexican jurisdiction over California.
President James K. Polk sent Captain John C. Fremont, a military explorer and surveying engineer, to the Oregon Territory and California on a scientific and surveying expedition. If a war broke out in California, he was to attempt to negotiate a peace with honor. (Polk had already declared war on Mexico over a boundary dispute along the Rio Grande River on May 13, 1846.)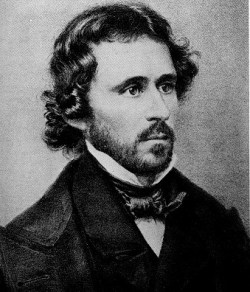 John C. Fremont
Great Britain played an important role at this time. President Polk and Lt. Col. Fremont were aware that England and Mexico were allies due to a very large debt that Mexico owed England. As Fremont was in Monterey a British frigate brought 3,000 settlers to be relocated in the San Joaquin Valley and thereby establish a foothold in California. But, the settlers left when they found the political situation in so much turmoil. At this time England and Canada were claiming additional Oregon territory.
By mid-summer of 1846, Americans forces were in control of the entire province. Mexican forces in Los Angeles, under Captain Jose Maria Flores, mounted a revolt. The U. S. forces in Los Angeles, under Captain Archibald Gillespie, were under siege at Government House, their headquarters. To strengthen Flores' effort, General Andreas Pico raised a California army in the San Fernando Valley.
After the Bear Flag Revolt in May, 1846, in which Fremont took part in the uprising of American settlers against the Mexican government in California, he accepted from Commodore Robert F. Stockton, America's Military Governor, the rank of Lieutenant Colonel. Fremont formed the California Battalion, composed of settlers and sharpshooters from the Monterey area. They headed south to the City of the Angels (Los Angeles) to confront Mexican Governor Pio Pico's forces led by General Andreas Pico.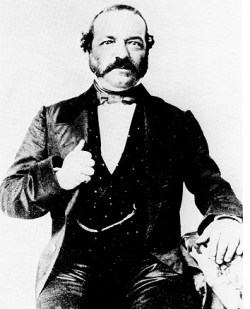 Gen. Andreas Pico
Fremont moved south to San Luis Obispo where he captured Mexican General Jesus Pico, a cousin of Pio and Andreas Pico. He readied his forces in the hills above the Santa Barbara Mission on a cold and rainy Christmas morning n 1846. By January 6, 1847, forces under American Gen. Stephen Watts Kearny and Commodore Robert Field Stockton were on their way to Los Angeles from San Diego.
After fighting two bloody battles a few miles south of Los Angeles, on January 11, 1847 Kearny and Stockton marched to the main square. Pico's Californian force was all that remained. Fremont and his men were camped at the San Fernando Mission. In a last effort to rout the American force, Pico attempted a daring maneuveur. His Californios marched north over the Cahuenga Pass in full view of Fremont. Then, in an effort to fool the Americans into believing his force was far larger than it the small band he really had, Pico's men next passed unseen through a ravine, where Universal City now sits, and came back over the hill thus giving the impression that Pico commanded a large army.
". . .We entered the pass . . .on the morning of the 12th of January. In the afternoon, we encamped at the mission of San Fernando, the residence of Don Andreas Pico, who was at present in chief command of the Californian troops. Their encampment was within two miles of the mission, and in the evening, [my envoy] Don Jesus [Pico], with a message from me, made a visit to Don Andreas. The next morning , accompanied by only Don Jesus, I rode over to the camp of the Californians, and, in a conference with Don Andreas, the important features of a treaty of capitulation were agreed upon.
A truce was ordered; commissioners on each side appointed; and the same day a capitulation agreed upon. This was approved my myself as military commandant representing the United States, and Don Andreas Pico, commander-in-chief of the Californians. With the treaty of Couenga [sic] hostilities ended, and California left peaceably in our possession; to be finally secured to us by the Treaty of Guadalupe Hidalgo in 1848."
The signing of the Capitualtion of Cahuenga occurred on January 13, 1847 on the kitchen table of the abandoned six-room adobe formerly occupied by Tomas Feliz and his family. Copies were signed in English and Spanish. Much to the chagrin of Gen. Kearny, his superior, Fremont gave Pico generous terms. Kearny lost an arm in battle against Pico's forces at San Pasqual, had fought hard to reach Los Angeles and no doubt had retribution on his mind. Among the seven terms of the agreement were stipulations that the laws of the United States would take effect immediately and that all members of Pico's brigade, unseen and unnumbered, would never again bear arms against the United States.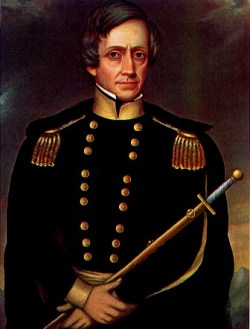 Gen. Stephen Kearny
Fremont later wrote:
Because their agreement had been so amicable, Pico at once organized a fiesta for Fremont and his men in California that, after decades of turmoil, was finally at peace. A few weeks later, at Kearny's instigation, Fremont was court-martialed for his actions at the time of the capitulation and convicted of insubordination. However, Commodore Stockton, Military Governor of California, negated any punishment and President Polk later pardoned him. Fremont later had a distinguished political career and in 1856 was the Repubican Party's first nominee for President of the United States.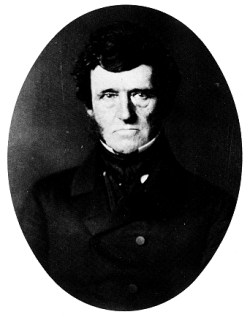 Commo. Robert Field Stockton