The Club met on September 14, 1878 at the Continental Hotel in Philadelphia. The minutes of this meeting state:
The Aztec Club met, pursuant to adjournment and the annual call of the President. The President, General Robert Patterson in the chair.
Present:

General Robert Patterson
Lt. Col. Thomas L. Alexander
General Benjamin Alvord
General John G. Barnard
General Pierre G. T. Beauregard
General George A. H. Blake
General Milledge L. Bonham
General Robert C. Buchanan
General Albemarle Cady
Professor Henry Coppee
General Schuyler Hamilton
General Winfield S. Hancock
Colonel Edmund L. Hardcastle
General Joseph L. Hooker
General Fitz John Porter
General William Preston
General Oliver L. Shepherd
Dr. James Simons
General George Sykes
General Zealous B. Tower
Following the meeting members assembled on the balcony of the hotel where the photograph below was taken.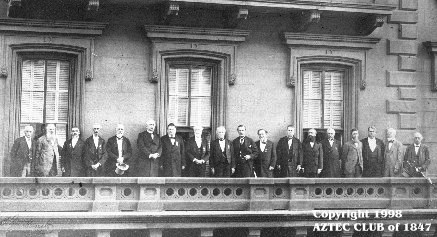 Pictured from left to right are:
1. General Pierre G. T. Beauregard
2. Professor Henry Coppee
3. General Zealous B. Tower
4. General Schuyler Hamilton
5. General John C. Barnard
6. General William Preston
7. General George A. H. Blake
8. General Robert C. Buchanan
9. General Robert Patterson
10. General William F. Barry
11. Colonel James Simons
12. General Joseph Hooker
13. General George Sykes
14. General Innis N. Palmer
15. Capt. Edmund L. Hardcastle
16. General Winfield Scott Hancock
17. General Albemarle Cady
18. General Benjamin Alvord