A Historic Reunion of
Union and Confederate Generals
At the invitation of George W. Childs, Philadelphia publisher, journalist and philanthropist, the Aztec Club met and dined at his newly constructed hotel, Hotel Bellevue, at Wayne Station on the Pennsylvania railroad.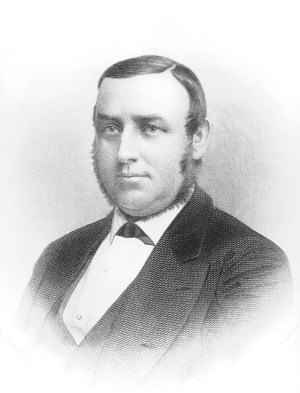 George W. Childs
Childs and banker Anthony J. Drexel purchased the former Askin estate, known as Louella, in 1880 to which they added additional acreage, calling the whole site Wayne Estate. They capitalized on the summer trade by erecting on the site, at what is now Bellevue and West Lancaster Avenues, Wayne, PA, the Bellevue Hotel for 200 guests with a boardwalk to the railroad station.
Drexel and Childs laid out building lots and roads both north and south of the tracks. The railroad added a stop at East Wayne, now known as St. David's. The hotel burned in a spectacular fire in 1900. On the site now stands the Bell Telephone Long Lines Building.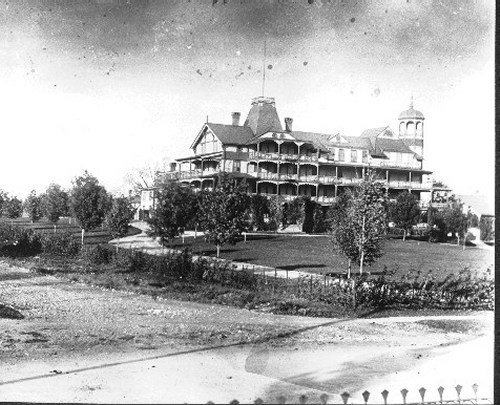 Bellvue Hotel
Wayne, Pennsylvania
General Robert Patterson, longtime President of the Aztec Club, had died the preceding August 7 and General Winfield Scott Hancock succeeded him as President. As General Hancock was not in attendance at the meeting, it was chaired by General Ulysses S. Grant. Gen. Grant was elected Vice President of the Club, announcing his intention to become its President in 1885.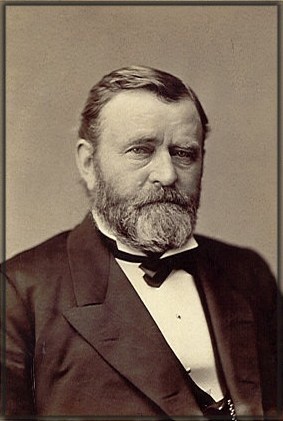 Ulysses S. Grant
As Vice President of the Aztec Club in 1881
Attending the meeting was a galaxy of stars from the Civil War, both Union and Confederate, brothers in arms during the Mexican War, many of whom as fate would have it were on opposite sides of the War of the Rebellion. Following the Civil War, they reunited recognizing that yet another burden had been placed upon them -- that of bringing tje war-torn country back together again. As a nation divided sought a path toward post-war reconciliation, these former military leaders led by their personal example. The bond between them even stronger that before, they came together again to perpetuate the unique bond they shared. The Aztec Club grew and thrived as it evolved from a military society into the hereditary one that exists today.
Officers elected that evening were: as President, General Winfield S. Hancock; as Vice President, General Ulysses S. Grant.
The proceedings of this meeting, including speeches by Ulysses S. Grant, William T. Sherman, and others, were reported by the Philadelphia Public Ledger and can be read by following the links below.
Click Next Page to Continue.